The largest menu in the area.
BREAKFAST, LUNCH, AND DINNER… TIMBERS IS YOUR PLACE TO BE.
Breakfast is served Tuesday through Sunday from 7 AM until 2 PM, with lunch and dinner starting at 11 AM.
Special Menu Days
WE SAID WE HAD THE LARGEST MENU, AND WE MEANa IT. Wednesday is Mexican Day, and Thursday, we serve all your Italian favorites! Friday, of course, is our Fish Fry. Choose from the 2 or 3 piece dinner or go for the All You Can Eat.
HOLD YOUR NEXT EVENT AT TIMBERS
WE HAVE ONE OF THE AREA'S NICEST BANQUET FACILITIES.
With seating from 20 to 120, "The Loft" at Timbers should be your first choice for your next occasion. Holiday party, birthday, wedding, anniversary, or business meetings, Timbers can provide full catering services. From supplying all of your food needs to full bar service, we can even book your DJ!
BUFFALO CHICKEN DIP
Spicy chicken and cheese dip served with tortilla chips
KRAUT BALLS
Ground beef, sausage and sauerkraut combined for this international delight!
GARLIC 'SHROOMS
Mushrooms marinated in garlic, breaded, deep fried and served with ranch dressing.
SASHIMI TUNA
Seasoned seared tuna, encrusted with sesame seeds and served with pickled ginger, ponzu and wasabi.
TIMBERS SAMPLER
A generous portion of mozzarella sticks, garlic 'shrooms, boneless wings and onion wings. Served with ranch dressing for dipping.
THE TIMBER BURGER
Over half a pound of juicy ground sirloin seasoned, cooked medium, and served on a soft grilled french roll, topped with lettuce, tomato, onion and pickle.
THE TIMBER CLUB
Slices of turkey, smoked ham, swiss, baccon, lettuce, and tomato. Served wit mayo on toasted white bread.
MAHI MAHI
We recommend timbers style or blackend
TIMBERS PORTERHOUSE
Our favorite, a huge, thick-cut 20 ounce portion that's char-broiled to perfection!
BBQ ST. LOUIS STYLE RIBS
Tender, meaty rack of pork ribs smothered in our own tangy BBO sauce and char-broiled.
Seniors enjoy a great deal on everything from char-broiled chicken to our 10 piece timbers shrimp, starting only …
KIDS
Children 10 and under will love our selection of meals made just for them, from our Timberwolf hot dogs to the shrimpsters with tail off. Starting at just $3.99
SIDES
Are you really hungry? No problem… We offer a full selection of side dishes including onion rings, fries, cole slaw, and cottage cheese. That's just a few of them.
DESSERTS
Top off your meal with your choice of our amazing desserts. We've got cheesecake, ice cream, pies, sundaes, you name it!
DRINKS
Wash it all down with milk, fruit juices, coffee, tea, or your choice of Pepsi products.
THAT'S NOT ALL. WE HAVE SOMETHING FOR EVERYONE!

Timbers is Angola's place for steaks and seafood. Established in 1999. Timbers is proud to boast the largest menu in the area. Breakfast is served Tuesday through Sunday from 7AM till 2PM, with lunch and dinner starting at 11AM.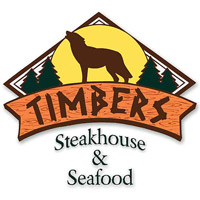 260-665-7487 Don@timbersangola.com 1212 West Maumee | Angola, IN
Winter Hours
Monday – closed Tuesday – Thursday – 7am – 9pm Friday – Saturday – 7am – 10pm Sunday – 7am – 8:30 pm